The Ministry of Education's Innovation Cell and AICTE has plan to organise 15 IIC (Institution's Innovation Council) regional meets in different cities across the country to bring existing and prospective IIC institutions together, to provide a platform for sharing I&E knowledge and best practices in HEIs, to celebrate the achievements and impact created by IIC Institutions and to witness successful emergence of innovators and startup founders from HEIs. Gandhinagar University (GU) was invited to attend one such meet at Entrepreneurship Development Institute Of India, Ahmedabad(Gujarat) on 18th August 2022, which was attended by Prof. Hetal Shah, IIC and NISP Coordinator and Prof. Mrugesh Khatri, SSIP Coordinator. Gandhinagar University was shortlisted to share the best practices in Track "Knowledge Sharing session on Visualising and Developing Action Plan for I&E Ecosystem Development in HEI". IIC institutions were also invited to take part in the IIC Poster Gallery round to be held during the regional meet, In which among 35+ participants the University was felicitated among best three posters. IIC-GU is thankful to Trustees, Director and HOIs for their kind support in this achievement.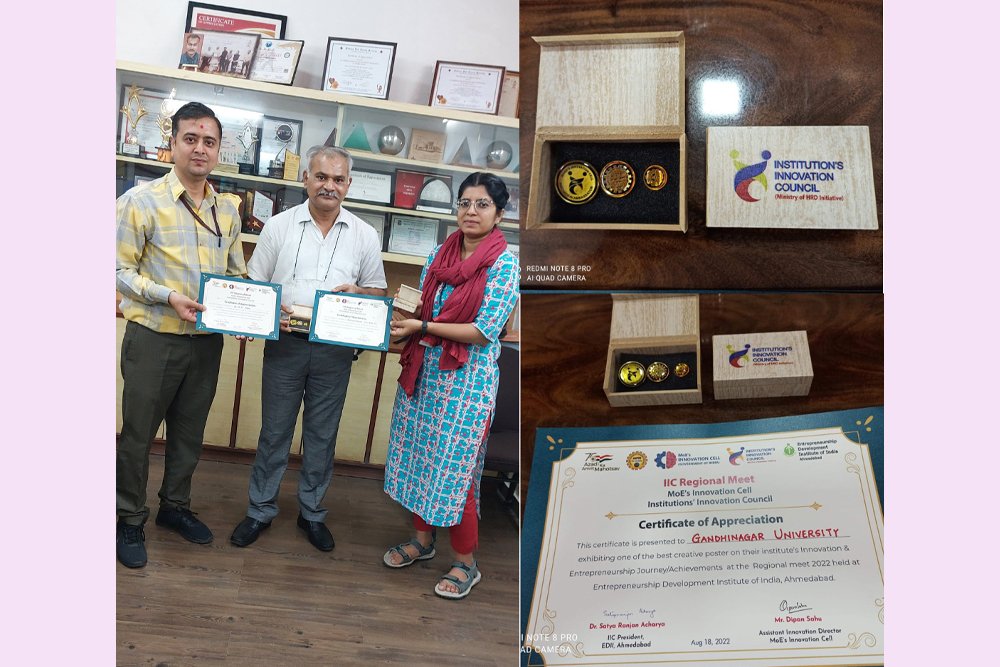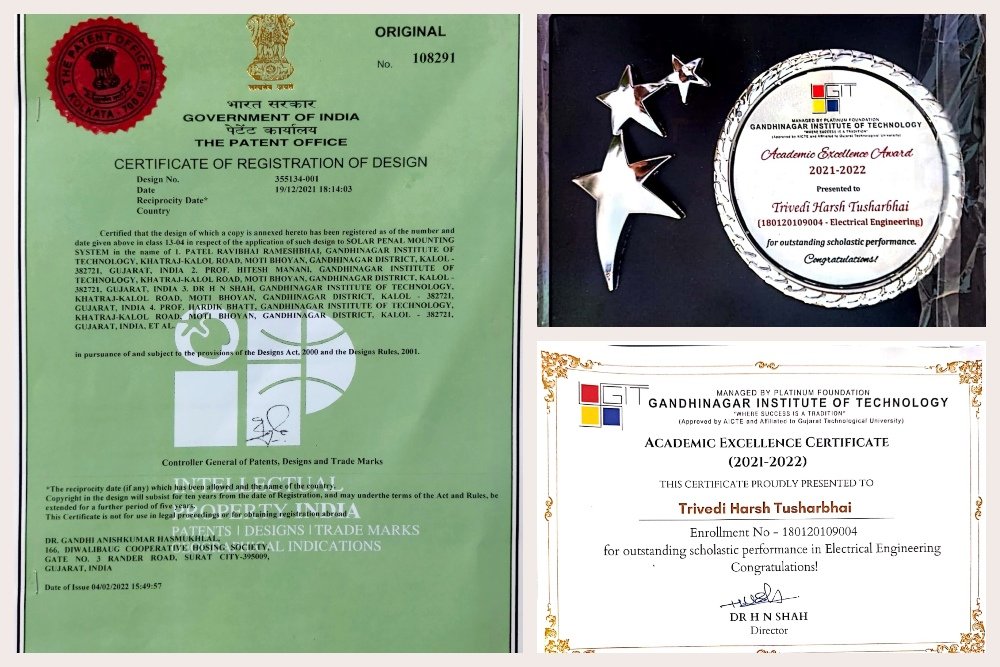 A student Patel Ravi of Electrical Department, Gandhinagar Institute of Technology, Gandhinagar University filed a patent on Solar Panel Mounting System. In remote areas the sun is a cheap source of electricity to produce electricity. While the output of solar cells depend on the intensity of sunlight and the angle of incidence. It means to get maximum efficiency; the solar panels must remain in front of the sun during the whole day. Due to rotation of the earth those panels can't maintain their position in front of the sun. This the problem results in a decrease of their efficiency. Thus to get a constant output, an automated system is required which should be capable of constantly rotating the solar panel. The Automatic Sun Tracking System (ASTS) was made as a prototype to solve the problem, mentioned above and registered a patent for the same. It is completely automatic and keeps the panel in front of sun until that is visible.
Gandhinagar Institute of Technology was felicitated by Shri Shailendra Mishra (Zonal Director, NCB) on 25/06/2021 for participating in "ART-A-THON 2.0" event. The event was organized by High On Life Foundation, in association with Narcotics Control Bureau (Ahmedabad Zonal Unit), Nasha Mukt Bharat Campaign, Gujarat and Ahmedabad Police. Ms. Sanjana Singh (180120111008) and Ms. Diya Patel (200120107058) won laurels for the instiute in the event.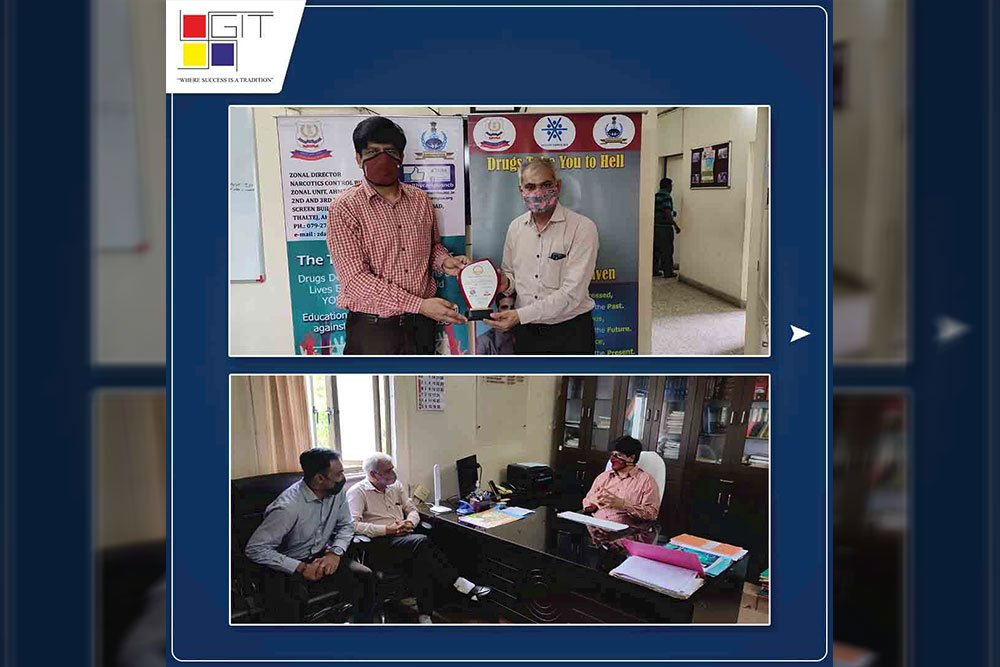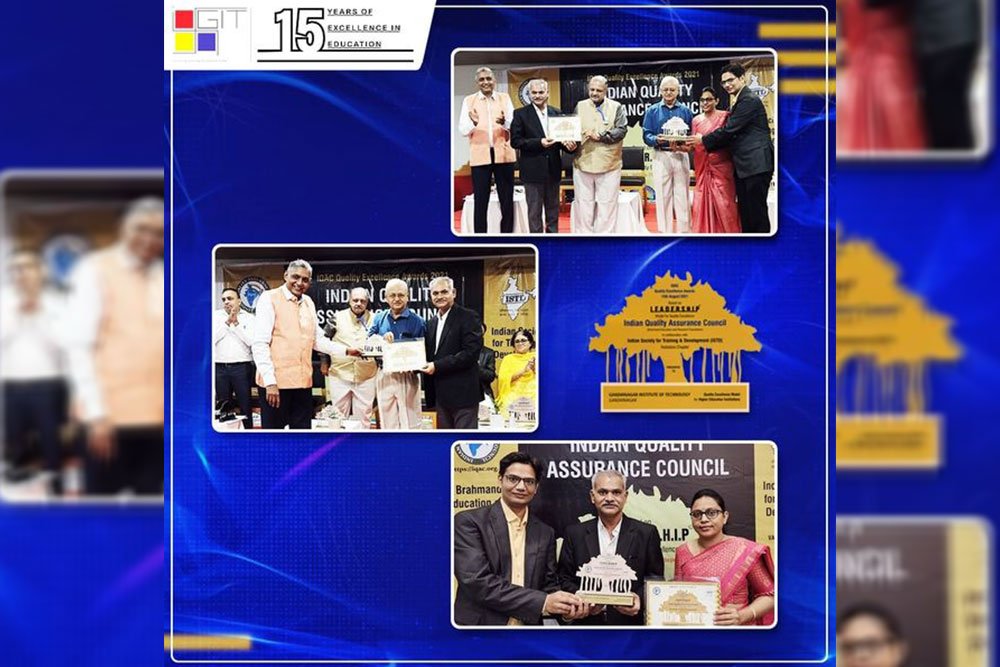 Gandhinagar Institute of Technology received a Quality Excellence award 2021 on 15th August at Baroda, Gujarat. The event was organized by Indian Quality Assurance Council (IQAC) in collaboration with Indian Society for Training & Development (ISTD) Vadodara. Dr. H N Shah Director GIT, Prof. Madhuri Chopade, GIT-IQAC coordinator and Prof. Harshal Oza, GIT-IQAC Co-coordinator received the award.
Aditya Bajpai, student of GIT won the M2M challenge, introduced by i-Hub, A Government of Gujarat Enterprise. He got Rs 4,19,700/- fund in March-2021. The Management, Dr H N Shah – Director and Prof Hardik H Bhatt – HOD-EC congratulates him for achieving such a significant milestone.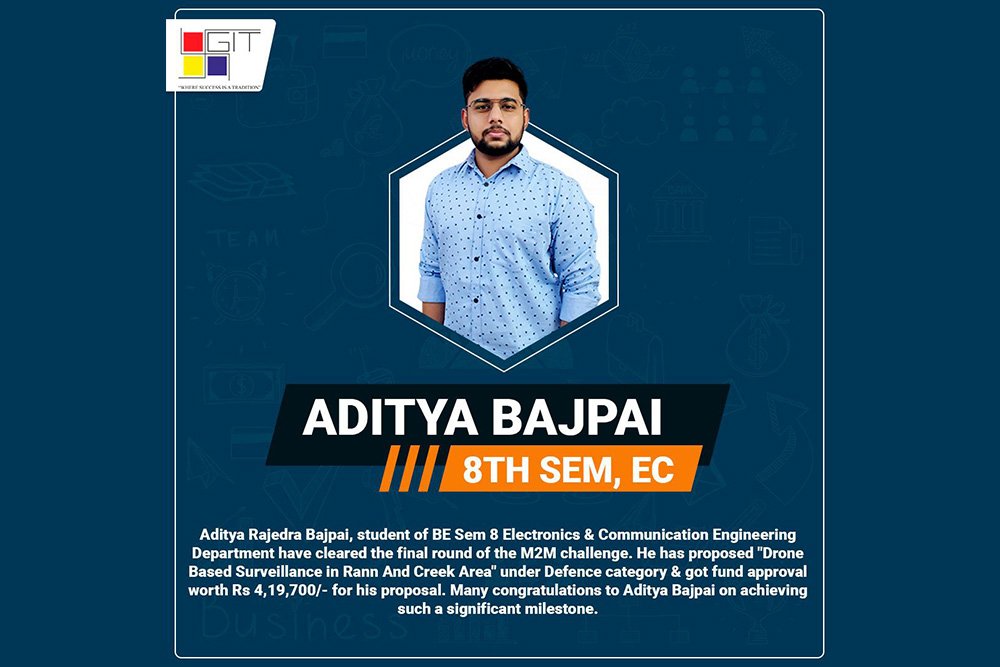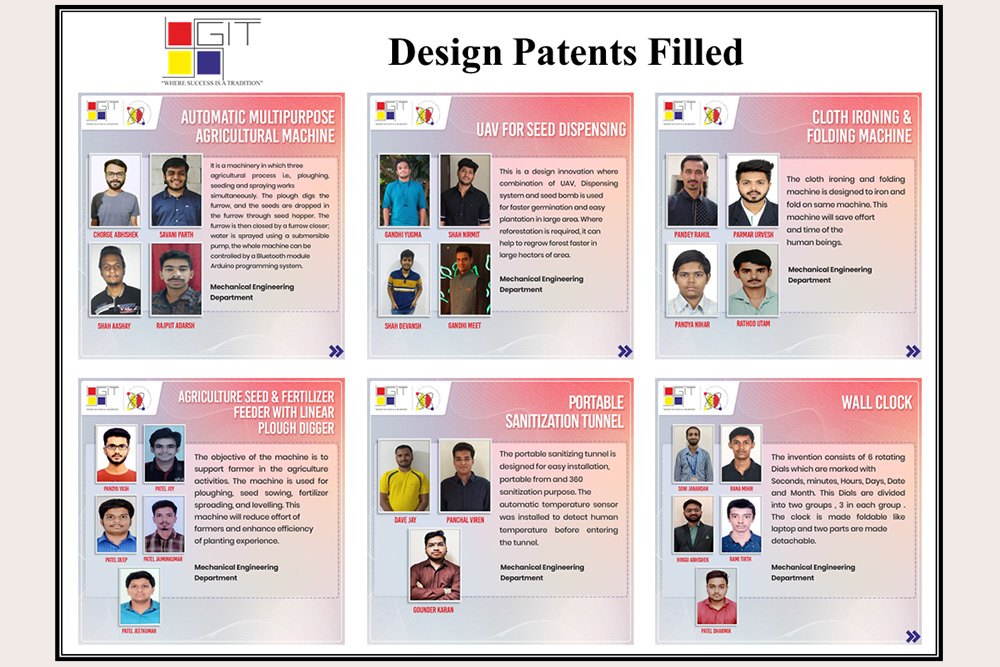 The students of GIT have filled 6 design patterns for their innovative ideas. GIT IPR Cell provided mentoring and IP facilitator support. The financial support of Rs 36,450/- was provided to the students under SSIP in March-2021.
GIT had organized the "GIT Vs Covid-19 Ideathon" to engage young minds and reduce their stress during pandemic under SSIP. The prize money of Rs 50,000/- was also given to all the winners in December-2020. The Management and Dr H N Shah – Director congratulates all winners.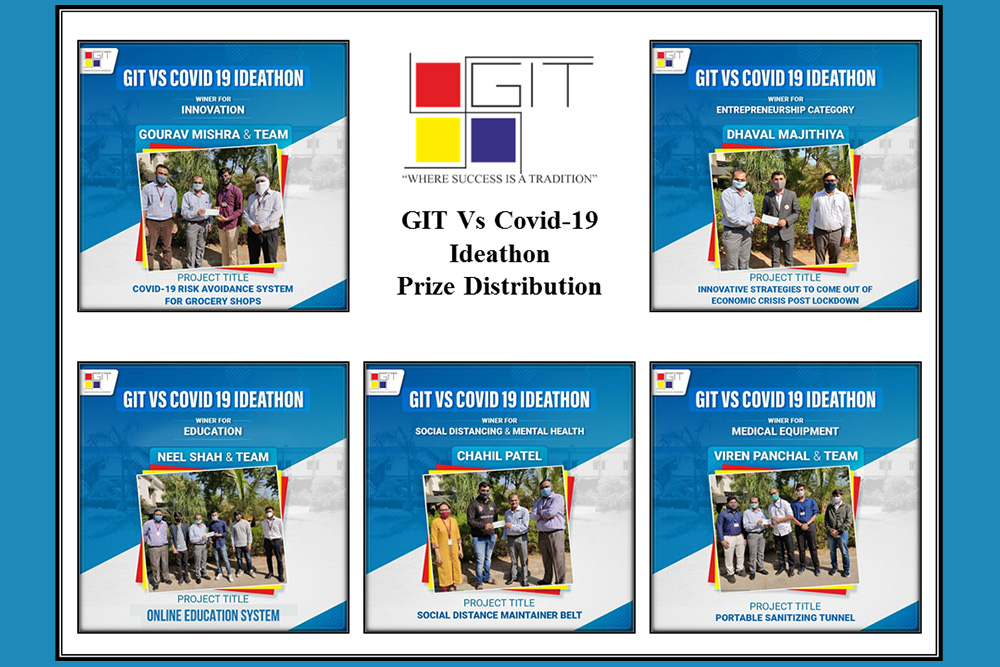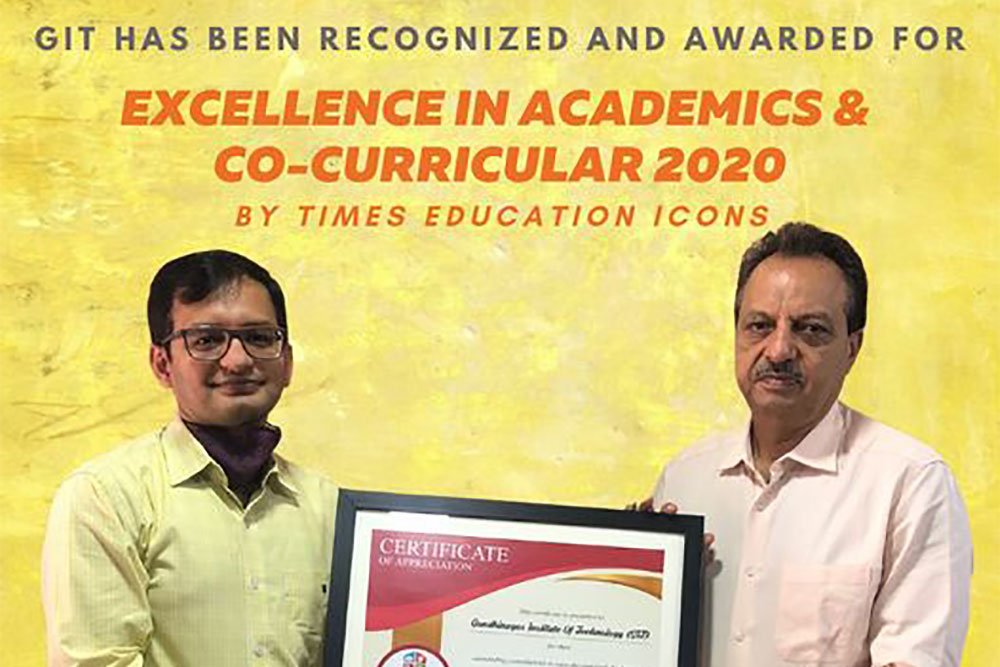 GIT has been recognized for this and awarded for Excellence in Academics & Co-curricular 2020 by Times Education Icons in November 2020
GIT has been recognized and awarded "Ahmedabad City Icon Award" for excellence in the category of engineering institute for the year 2020.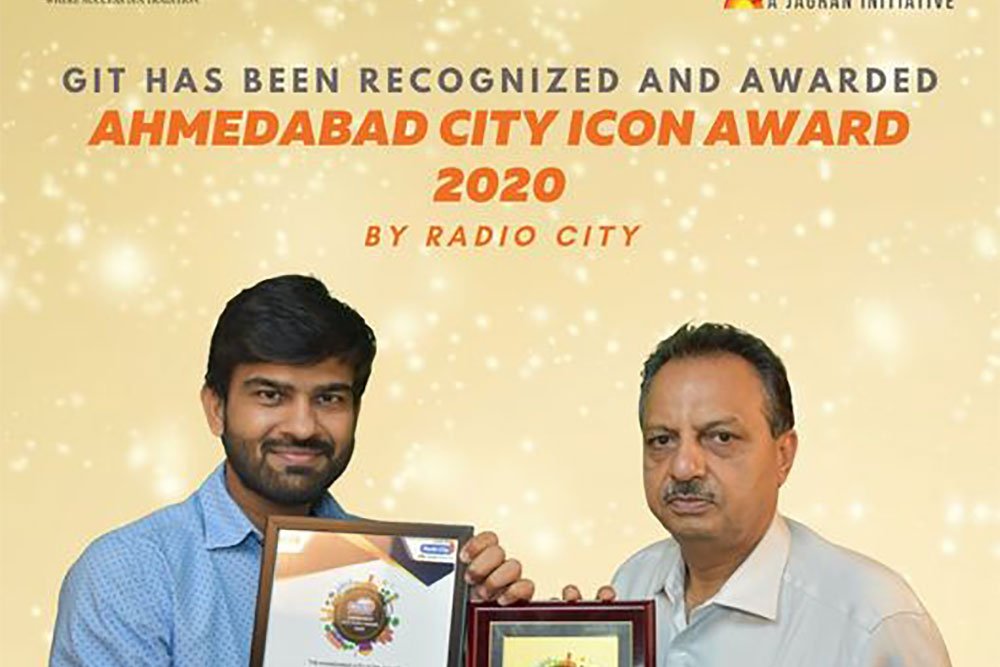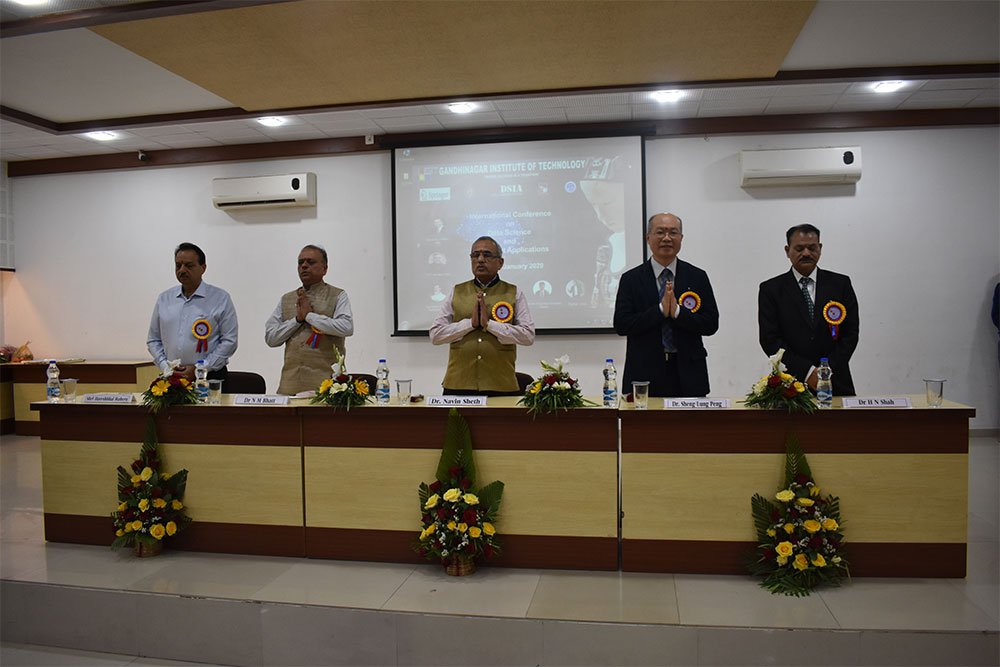 The Institute has successfully hosted the first International Conference on Data Science and Artificial Application ICDSIA 2020 during 23 and 24 January 2020
GIT students are Winner of Smart City Hackathon 2020, hosted by education department of Gujarat Government on 23rd-24th January 2020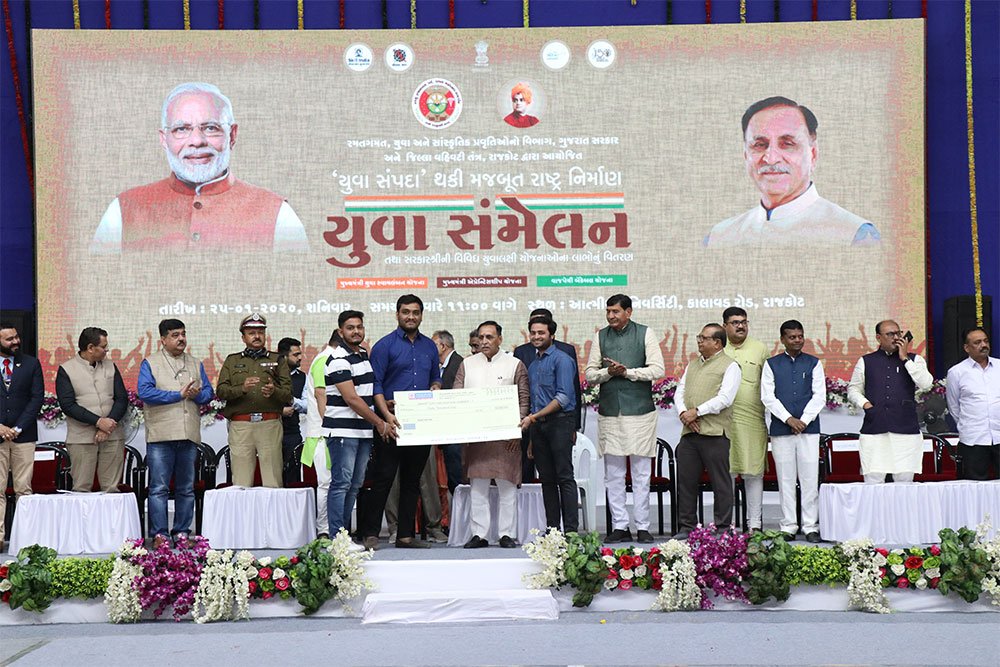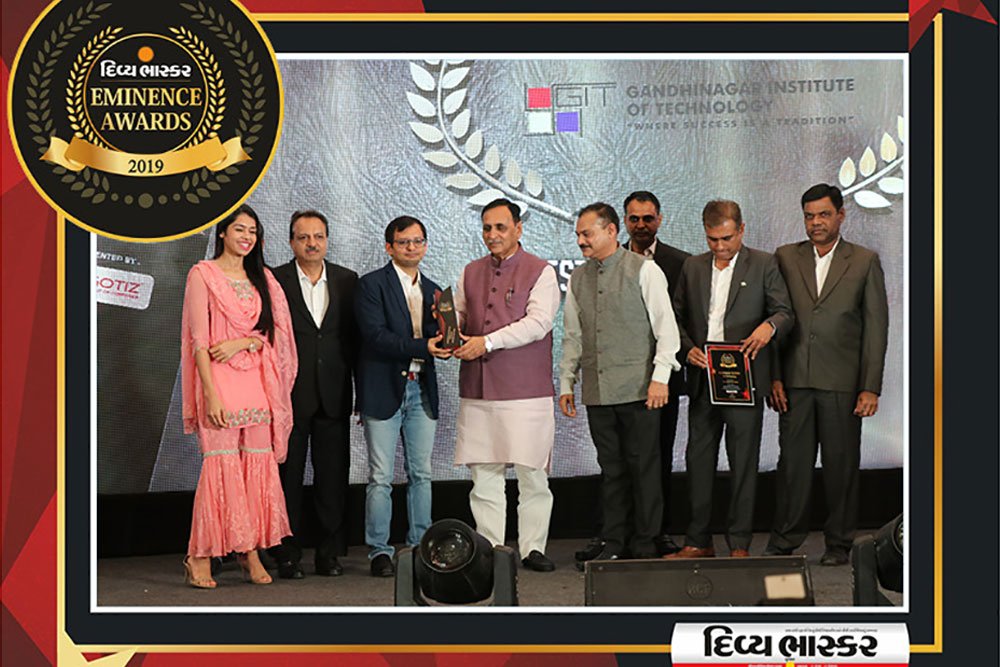 GIT received Eminence award for being the best engineering college by Honorable Chief Minister Vijay Rupani on 14th December 2019, event supported by Divya Bhaskar.
GIT had been awarded as valuable and outstanding Blood donation camp organizer in 2018-19 from Governor of Gujarat Honorable Shri Acharya Devvrat at AMA, Ahmedabad on 10th September, 2019.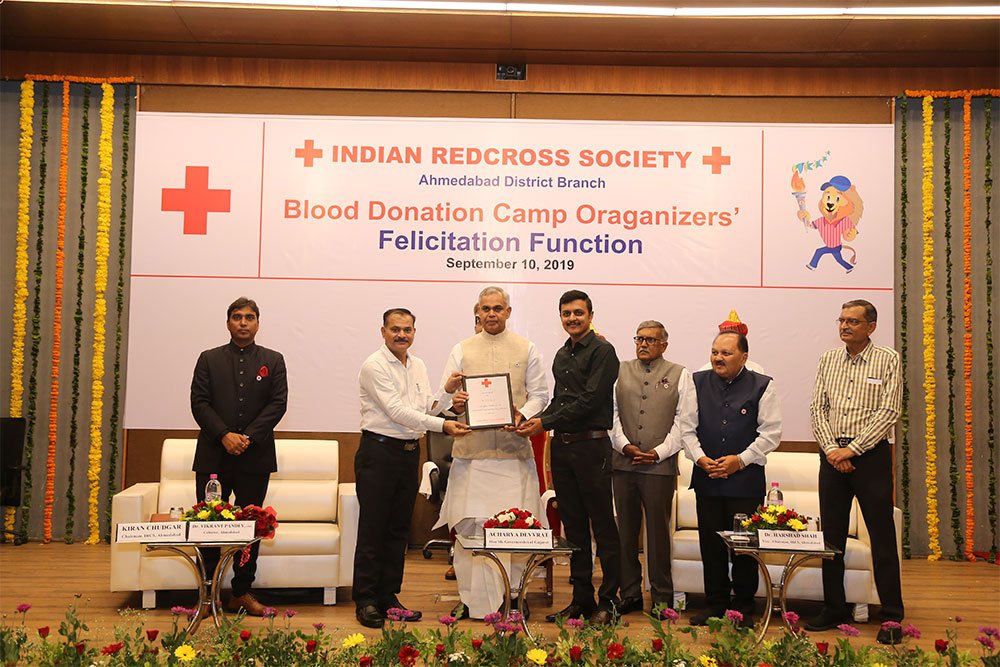 Pancholi Yashsavi, one of our student won Bronze Medal in Skeet Shooting-2019, in All India Vayu Sainik Camp by NCC (National level competition) held at Jodhpur on 9th September, 2019.
Institute students won Smart India Hackathon-2019 at IIT-Kanpur, defeated 32 teams from all over the country during 2nd – 3rd March 2019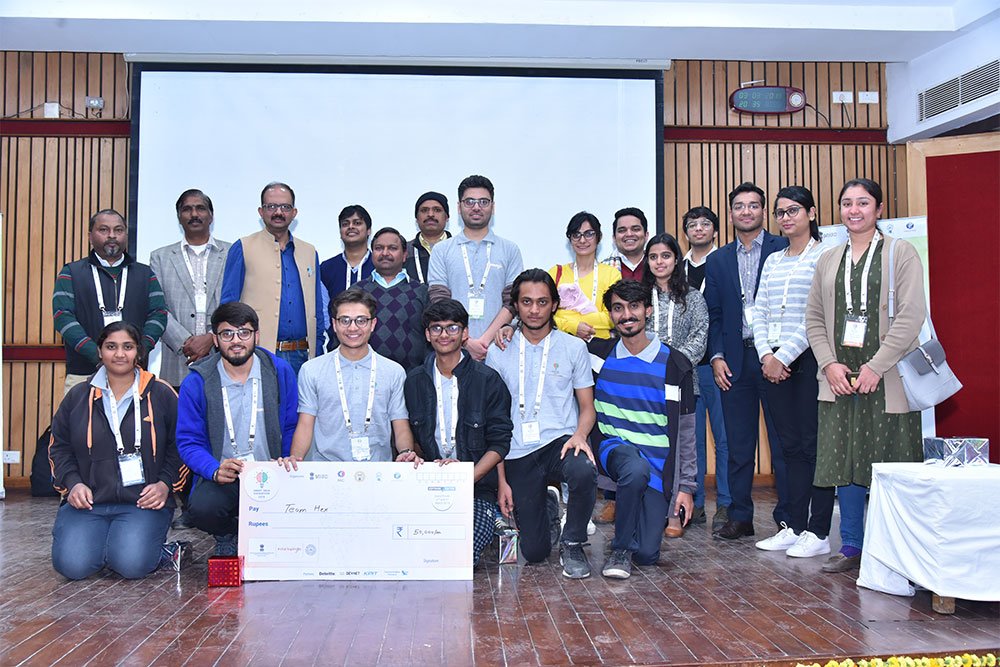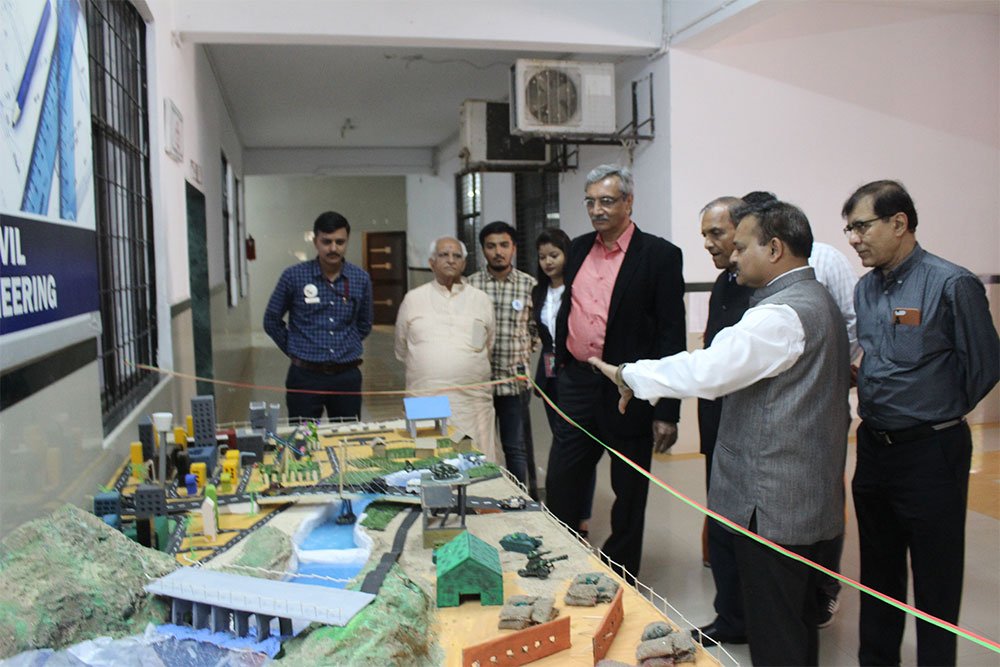 Institute has hosted GTU Zonal Techfest 2015, 2018 and 2019 for Gandhinagar Zone.
GIT is awarded by 94.3 MY FM for "Excellence in Faculty (Engineering & Technology)" and "Excellence in Engineering Education" in 2018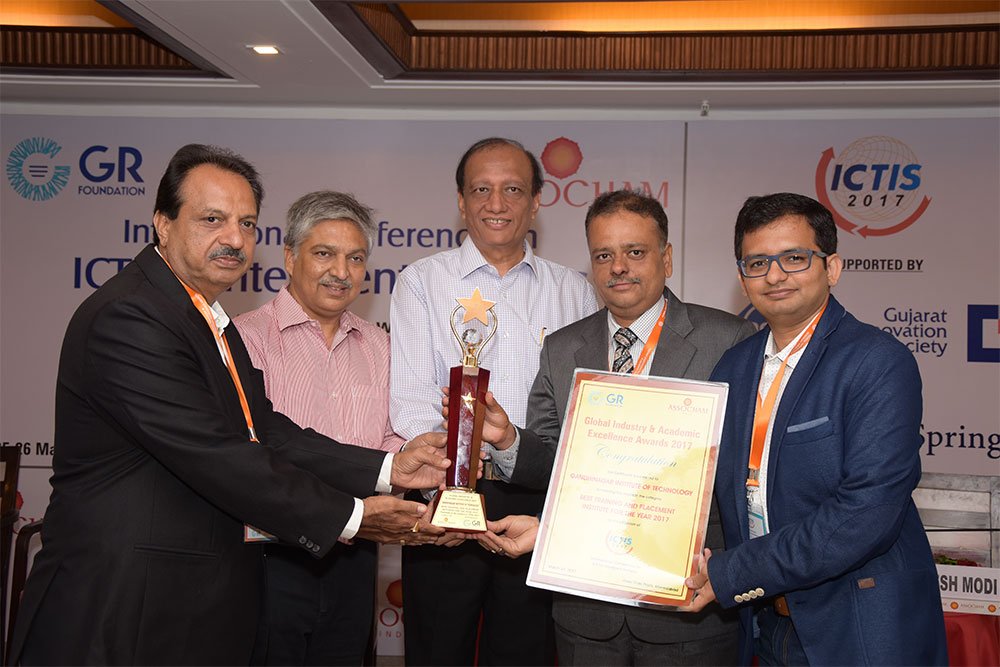 Gandhinagar Institute of Technology is awarded as Best Engineering College for providing best placement to the students by ASSOCHAM (The Associated Chambers of Commerce and Industry of India on 25th March 2017
Institute is three star super resource center for spoken tutorial project of IIT-Bombay funded by MHRD, Govt. of India