EC Department Achievements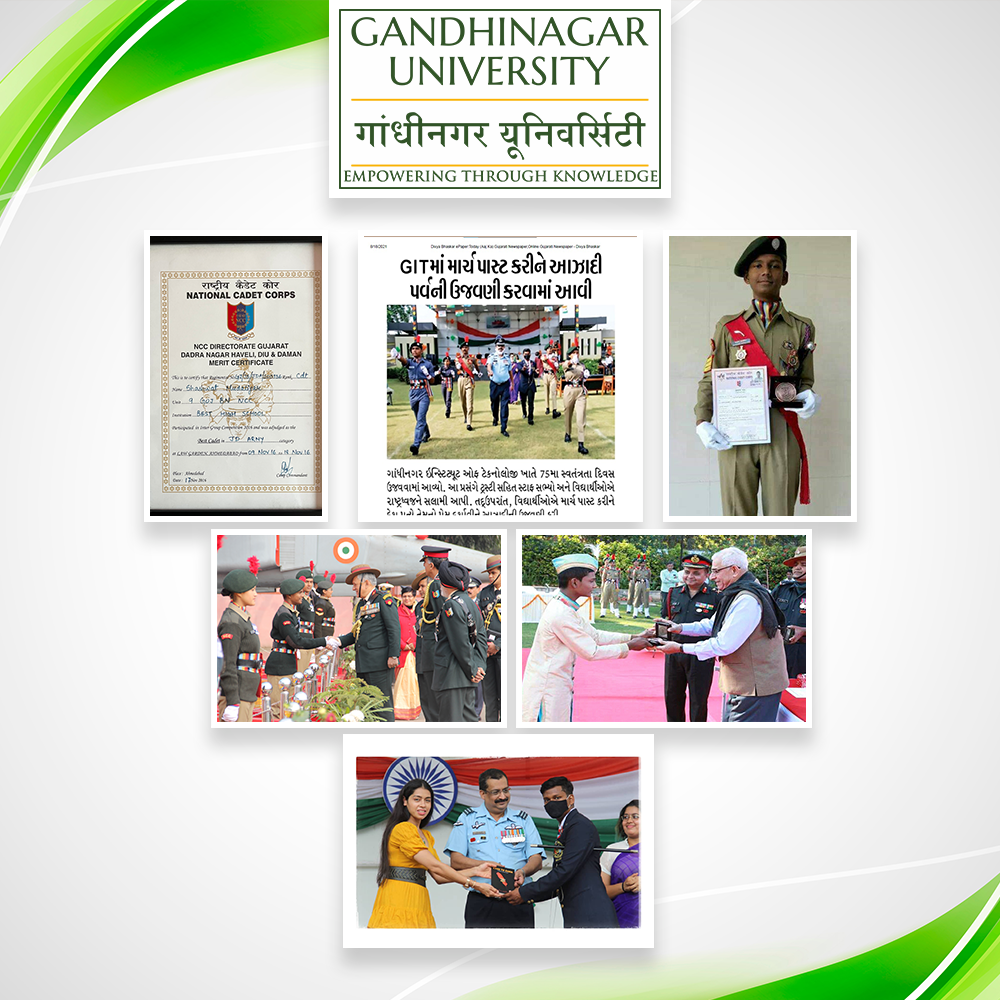 "Shashwat Mudaliar (200120111011) of Sem. 5, EC Dept. joined the NCC (National Cadet Corps) at the age of 14 and within a year span became the Best Cadet of Gujarat securing Rank 1. Later during the Republic Day Camp (RDC), he secured an AIR 7 as Best Cadet among 1.1 Million NCC cadets in India. He was also selected as the Parade Commander for Junior Division Army (Gujarat). He was honoured by the late CDS General Bipin Rawat for his exceptional performance.
He became the youngest Cadet to join the Prime Minister's Rally and was felicitated with Governor Medal by former Governor of Gujarat Shri O P Kohli. He has received an Honorary rank of Senior Under Officer (SUO) which is the highest rank in NCC. He has served as a DI (Drill Instructor) for Republic Day and Independence Day parades in our institute. Currently he is serving as the National Service Scheme (NSS) Student Coordinator in GU, guiding and motivating other student members of NSS. Gandhinagar University, Trustees, Director Dr H N Shah and EC Dept. congratulates Shashwat for his exemplary achievements and wishes him the best for his future endeavours. "
Akshit Detroja (180120111001, 4th Year), Dev Pradhan (200120111501, 3rd Year), Jahnvi Sharma (200120111004, 2nd Year) and Jiya Dave (210120111005 1st Year) of EC Department have been felicitated with the "Dewang Mehta IT Awards – 2022" by the Dewang Mehta Foundation Trust on 12th Aug 2022, at Pandit Dindayal Upadhyay Auditorium, Ahmedabad. The Certificate of Excellence was awarded to the awardees for being the Top Ranker in their respective Branch for the Academic Year 2021-2022. Gandhinagar University, Trustees, Director Dr H N Shah and EC Dept. congratulates all awardees on their well-deserved scholastic performance.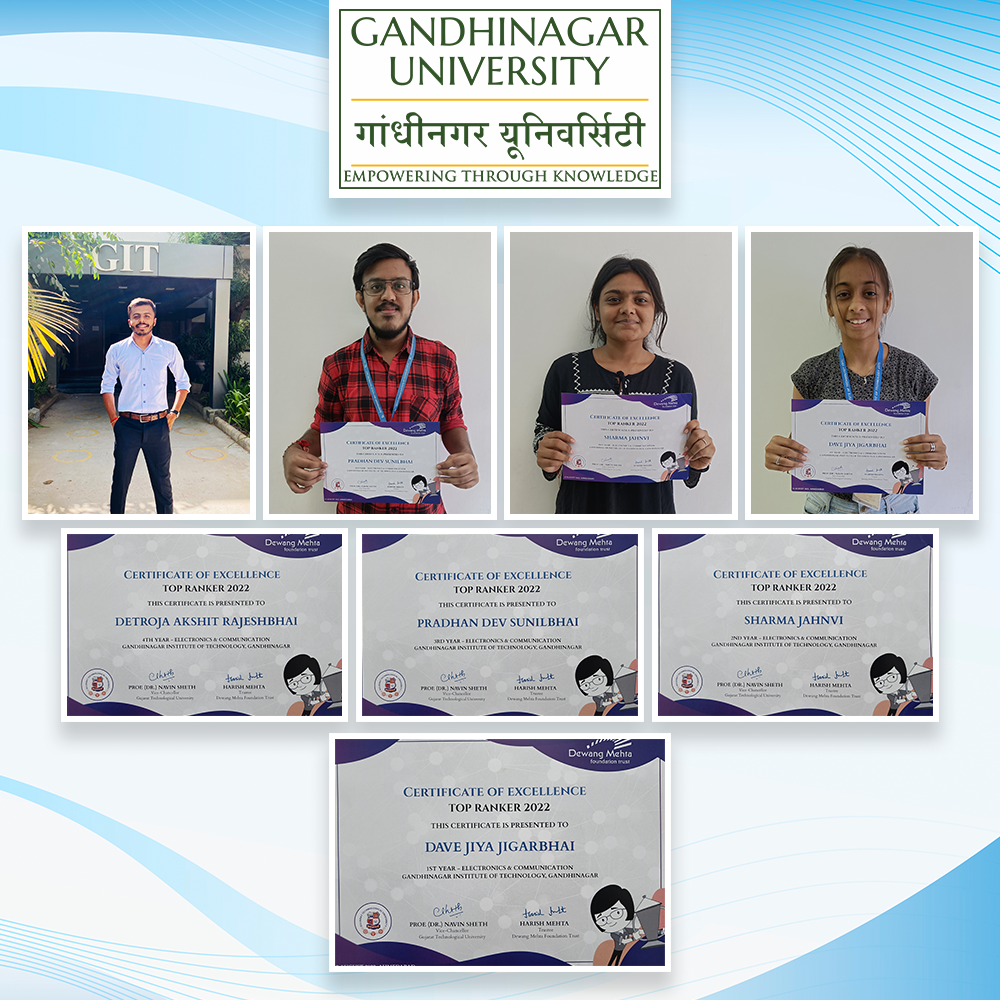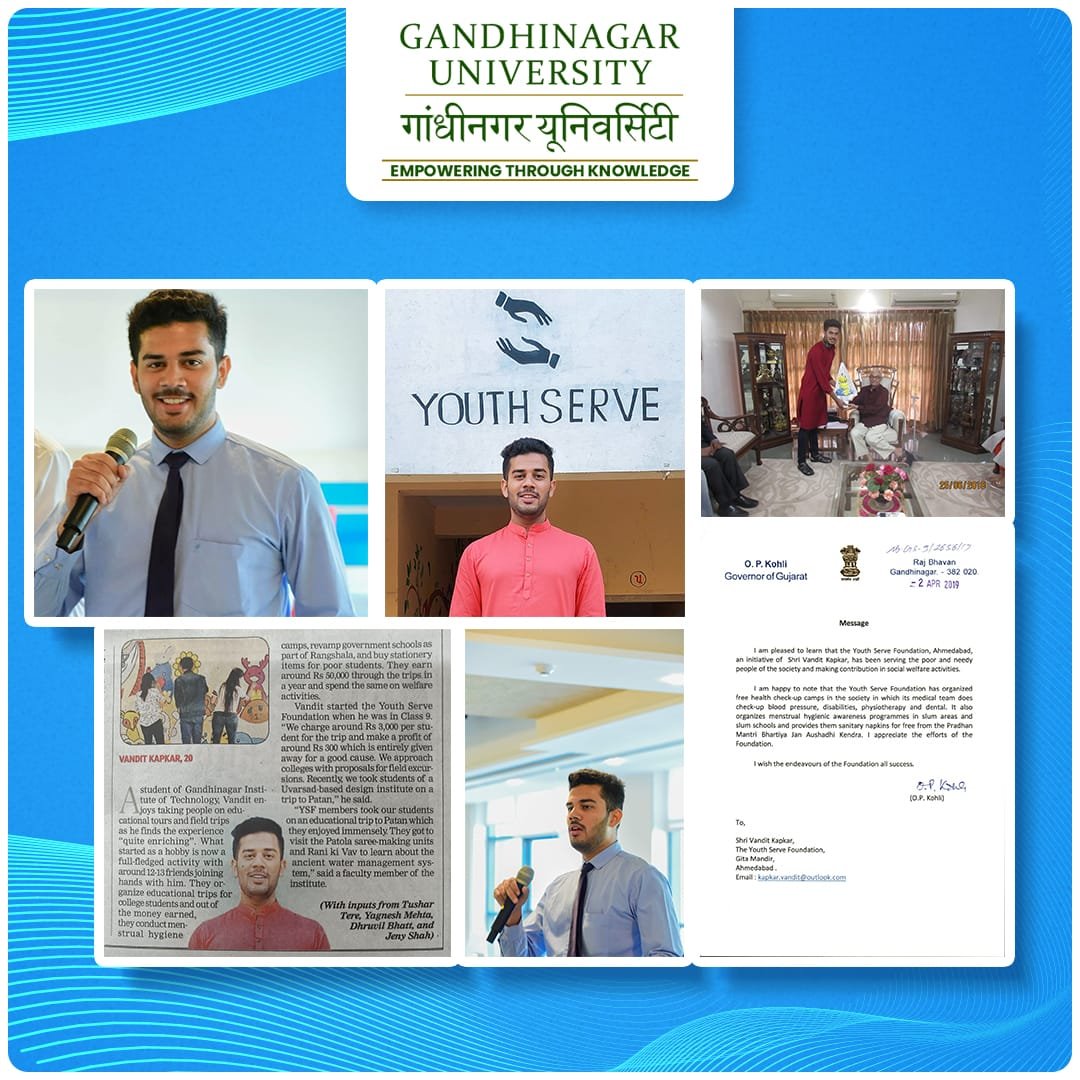 "Vandit Kapkar (210120111502) of Sem. 5, EC Dept. is an active Youth Leader and is associated with many social change-making organizations. At the age of 16 he founded an NGO called the ""Youth Serve Foundation"" with his friends. He has been working extensively on different issues like health, environment conservation, blood donation, digital literacy, education and women empowerment; to name a few.
Today the ""Youth Serve Foundation"" has more than 50 members and 500+ Volunteers across Gujarat. Vandit and his foundation were also felicitated by former Governor of Gujarat Shri OP Kohli for his notable work. Recently his work was published and appreciated by Times of India, Ahmedabad on 24/07/2022. Gandhinagar University, Trustees, Director Dr H N Shah and EC Dept. congratulates Vandit for his noble work and wishes him the best for his future endeavours."
Chintan Chhatbar (150120111003) has joined Indian Navy as an Officer in Nov 2020 after clearing exam and SSB. Initially he had gone through Indian Naval Academy at INS Zamorin, Kerala. Out of 2000 student at INA, he was awarded Flag Officer Commanding in Chief silver medal on passing out parade at INA on 27th Nov 2021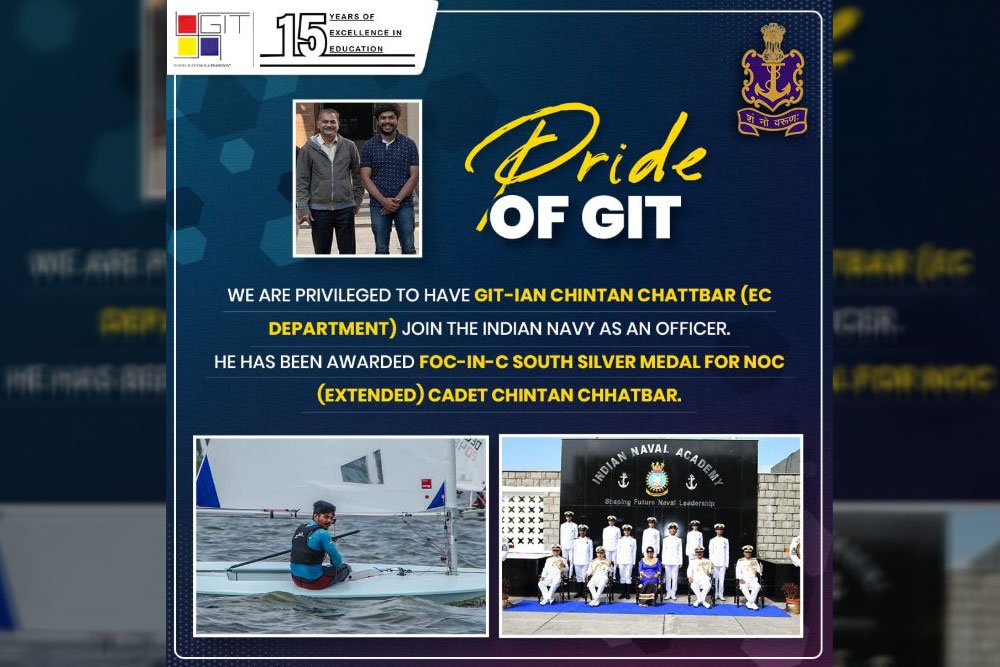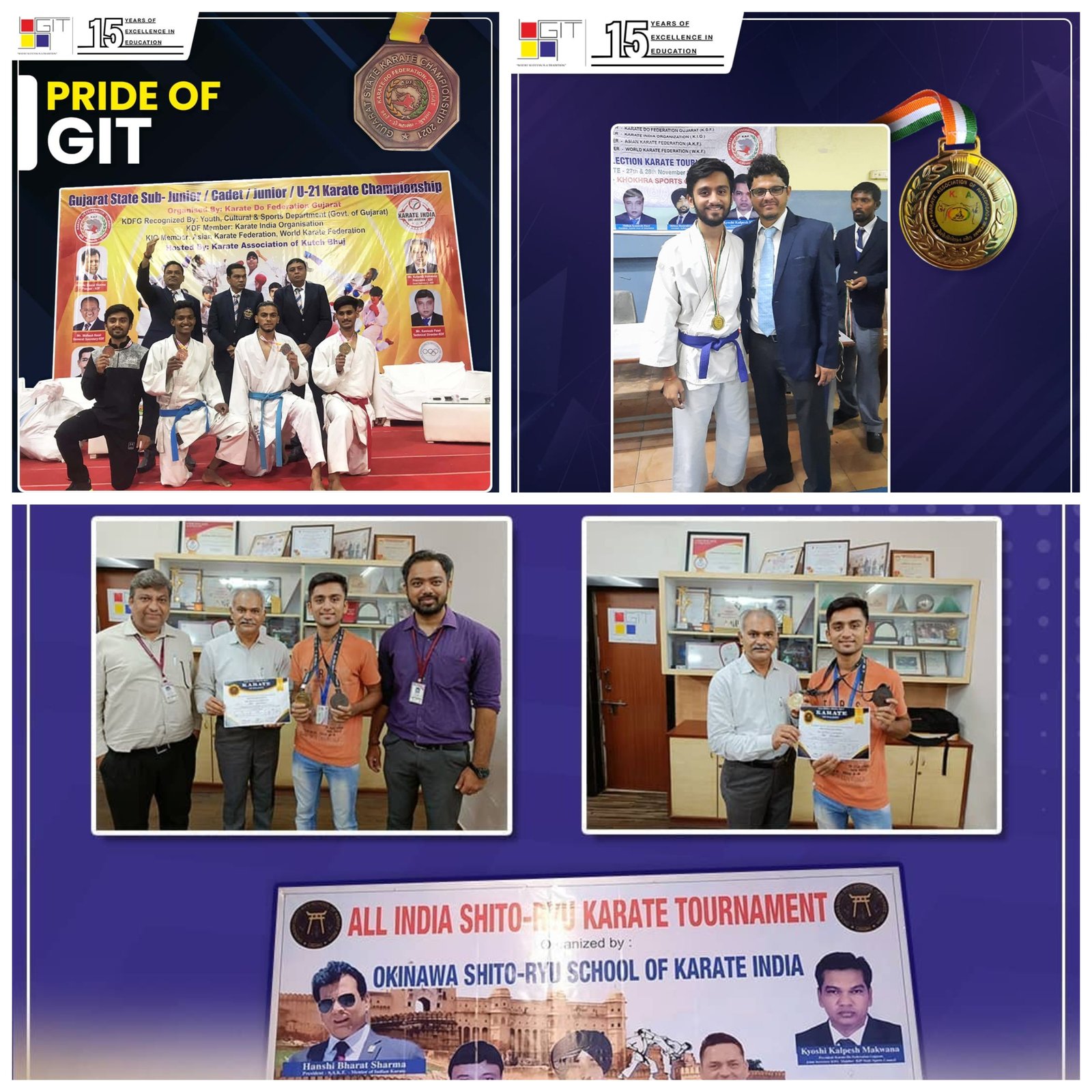 "Neel Golwelkar (190120111002) participated in the ""All India Shito-Ryu Karate Tournament"", which was organized by ""Okinawa Shito-Ryu School of Karate, India"" at Udaipur, Rajasthan on 25th and 26th September 2021. He won Gold & Bronze Medals in Kata & Kumite Fights, respectively.

He further participated in the ""State Selection Karate Tournament"", which was organized by ""Karate Association of Ahmedabad"" at Khokhra Sports Complex, Ahmedabad on 27th & 28th November, 2021. Secured a Gold medal in the 60 Kg Weight Category (under 21 years).

Neel also participated in the ""Gujarat State Sub-Junior / Cadet / Junior U-21 Karate Championship", which was organized by ""Karate Do Federation Gujarat"" at Gandhidham, Kutch on 11th and 12th December, 2021. Secured a Bronze medal in the 60 Kg category. He has been selected from Gujarat to represent the West Zone of India."
Sanjana Singh (180120111008) of Sem. 6 received 1st Prize in "ART-A-THON 2.0" Event on the "Mental Health" Theme for her Painting Titled "Embrace Life-Addressing Mental Health Issues". The event was organized By High on Life Foundation. She was felicitated by by Shri Shailendra Mishra (Zonal Director, NCB) on 25/06/2021 for the same..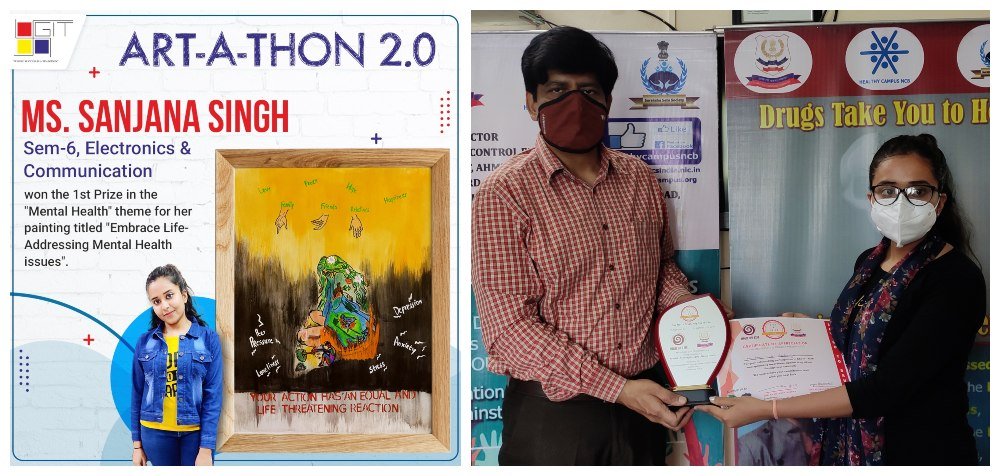 Pranjal Gupta (200120111017) secured 7th Rank in National Level 4 day intensive tech challange organised by GITHub Developer Tech Camp from 06/02/2021 to 09/02/2021. He further secured 10th Rank pan-india in IncubateIND Developer Tech Camp (IDTC) which was organized from 20/03/2021 to 22/03/2021
The two students of EC department, Gourav A. Mishra and Sanjana J. Singh, have won first Prize of Rs. 10000 for 'GIT Vs COVID-19 Ideathon' in Innovation Domain.The event was held on 27th and 28th april 2020.The topic of the ideathon was "Covid-19 Risk Avoidance System for Grocery Shops".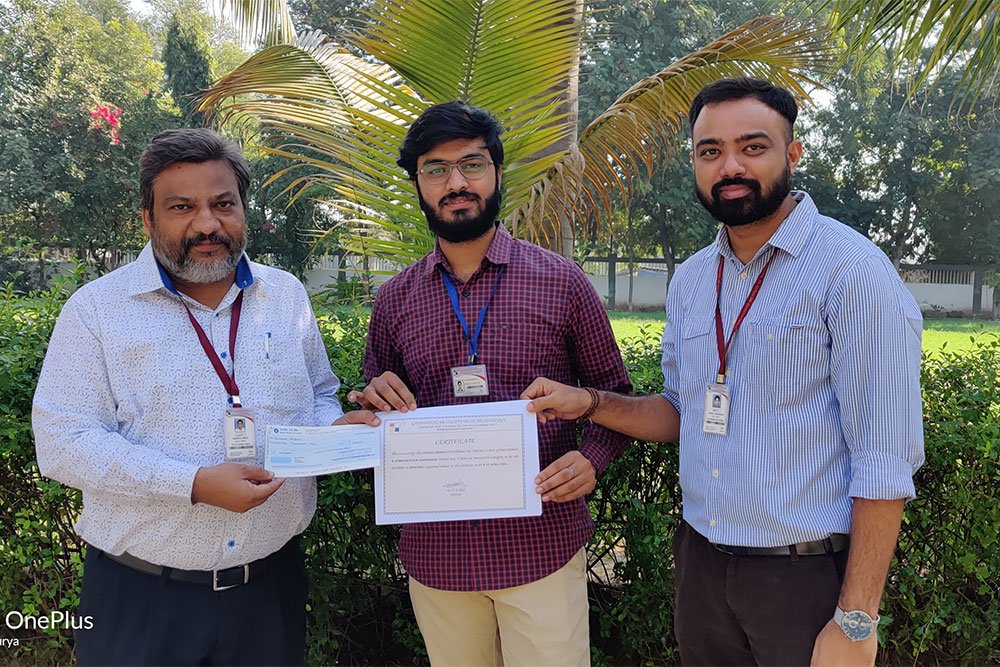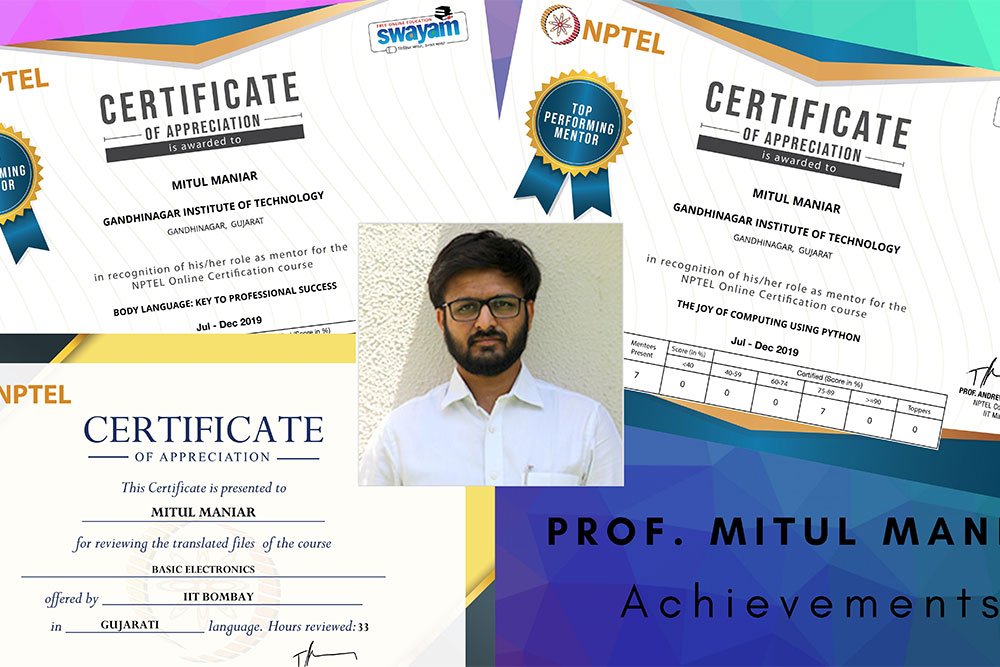 Prof. Mitul Maniar certified as Top Performing Mentor for the NPTEL courses of "Body Languange – Key to Professional Success" and "The Joy of Computing using Python". Courses were run from July-Dec 2019. Above all he also translated 33 hours of course content from English to Gujarati of the NPTEL course "Basic Electronics" and a GitHub Certified Campus Advisor.
Prof. Jatin Chakravarti was awarded as the 'Youth Icon' of Healthy Campus initiative by Narcotics Control Bureau (NCB), Govt. of India on 27/08/2018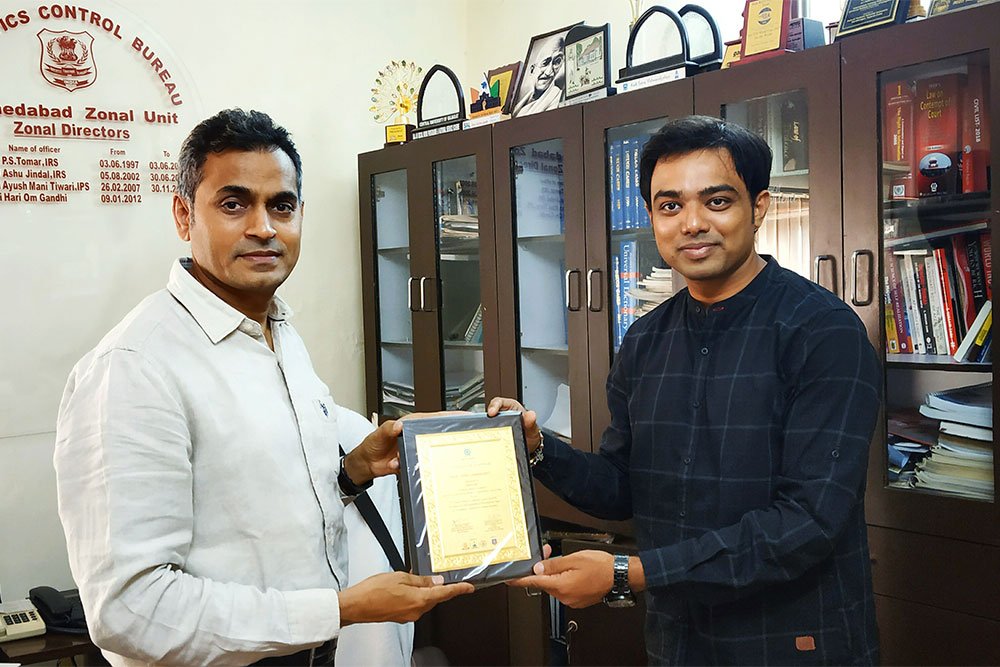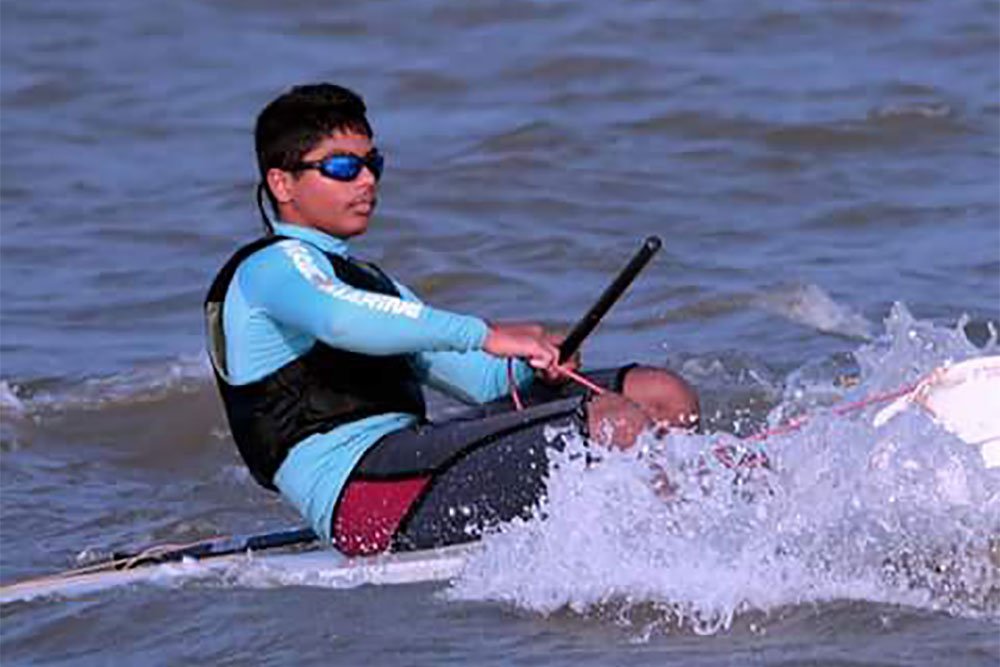 Chintan Chhatbar (EC) won Silver medal/ 2nd position overall in Wet and Wild Regatta 2018 (National Yatching Championship)
EC Department organized GUJCOST Sponsored 5 Days STTP on IoT using ARM Cortex M4 and Received grant of Rs. 40,000/ for the same.